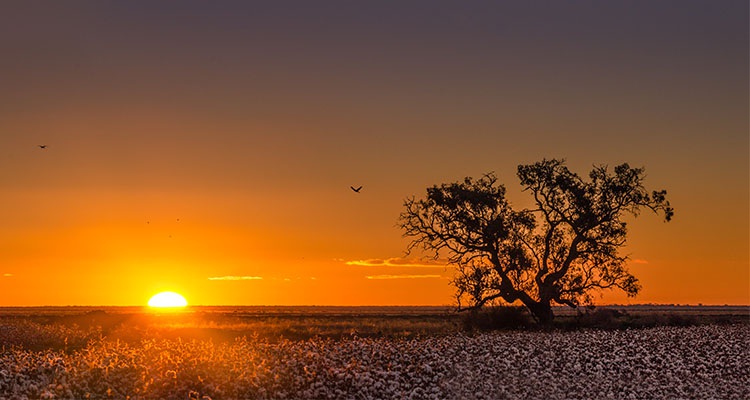 Aiming to Be World Leaders in Sustainable Cotton Production
The vast majority of Australian cotton growers are responsible, ethical farmers with a strong track record of looking after the natural environment and their workers. From the careful preparation of the soil, right through to harvest and beyond Australian cotton growers have made sustainability central to the way they do business.
Over 80% of farmers are participating in the Australian cotton myBMP Progam, recognised as one of the world's most robust cotton certification standards - the Better Cotton Initiative (BCI) has matched these standards to its own, with eligible Australian cotton growers participating in BCI.

myBMP is a commitment to growing and ginning cotton in harmony with the natural environment, and with the utmost care for farm workers. The program involves audited processes and traceable supply chains that can assure cotton manufacturers, brands and retailers of Australian cotton's environmental and ethical stewardship - right back to the farm.
Massive Improvements Over Decades
The Australian cotton industry collects research data that shows clear improvement in many areas over many years. These results are due to decades of hard work, research and development and practice changes on farm. Compared to 1992 producing a bale of irrigated Australian cotton now requires:
48% less water
97% less insecticides
34% less land
A 2029 Vision for the Future
In 2009 Australian cotton industry leaders together developed its vision for the future:
Dedicated to becoming the producer and supplier of the most environmentally and socially responsible cotton in the world
Aims to be a global leader in sustainable agriculture by investing in research and development and reporting against recognised sustainability indicators
Committed to delivering independent, evidence based assessments of its sustainability and environmental performance and communicating this with openness and transparency to its stakeholders
Utilises its best management practice program (myBMP) as a pivotal platform to maintain the cotton industry's social licence to operate
More Information
Please click here for further information on the social and environmental credentials of Australian cotton.
Please click here for how the Australian cotton industry is tracking against its 2029 Vision.