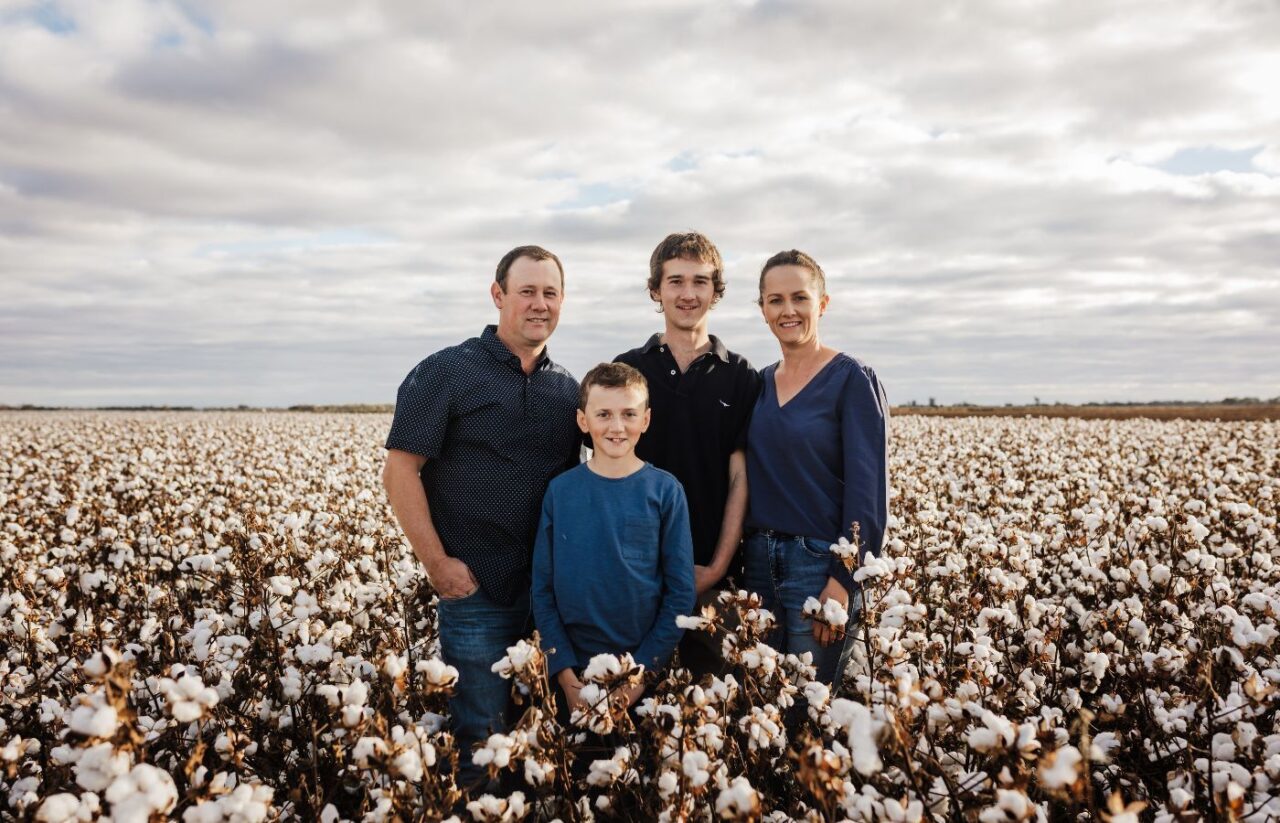 Determination and tenacity are creating resilient farmers, and an increasing number of them are women.
In the small southern NSW town of Coleambally, Jenna Davie is one of those women that identify as a cotton farmer. Jennie spends plenty of time driving tractors, starting syphons and working the land.
In Australia, almost 30 per cent of cotton farmers are women, many who have a "never give up" attitude and are determined, motivated and passionate about the industry.
"I love farming. From tractor work, crop planting, spraying and irrigating," Jenna says.
Jenna was born and raised on her family's farm in Coleambally. She moved away for study but returned to her parents' farm 10 years ago with her husband Mick and two sons Sam and Chaise, where they purchased their own property, neighbouring her parents, uncles and brother.
Sitting still isn't in Jenna's vocabulary, she can handle many aspect of farming and prefers her boots and a pink cap over office attire. She likes to be kept busy.
"I'm still learning a lot about our farming operations, especially the budgeting side with dad and brother Scott, but I'm a big believer in bettering yourself," Jenna said.
"This is an industry where there's always something new to learn and the more you know, the more confident and comfortable I feel in the industry."
Today, International Women's Day celebrates the incredible impact women have on Australian cotton, and how women are inspiring each other in the industry.
The shift in dynamics has resulted in more women driving tractors and getting their hands dirty – and they're not afraid to.
"The kids are obviously the number one priority, but once they are off to school, I'm into irrigating, tractor work or updating records in the office," Jenna says.
"Now the kids are older, they want to come out with us on the farm and start syphons, check channel heights and give us a hand. It's nice to do that together as a family."
Women in Australian cotton are supported by Wincott, a volunteer organisation that connects women from all aspects of the industry – from farming to banking and everything in between.
It's a networking group Jenna appreciates.
"Women in the cotton industry, and our community of Coleambally, are really here to help each other. There's a lot of support from other women, but also from the industry," Jenna said.
"I do think we can do more, perhaps on social media. I love seeing the young girls and women posting photos of themselves out in the field and driving tractors on social media – we should be doing more of that and sharing the message that women are great farmers, too."
Jenna says she is motivated by the increasing number of young women eager to work in the agriculture and cotton industry.
"Their determination and tenacity is guiding them through highs and lows and in turn, they are becoming brilliant, resilient farmers," Jenna said.
"This gives me hope for our future."