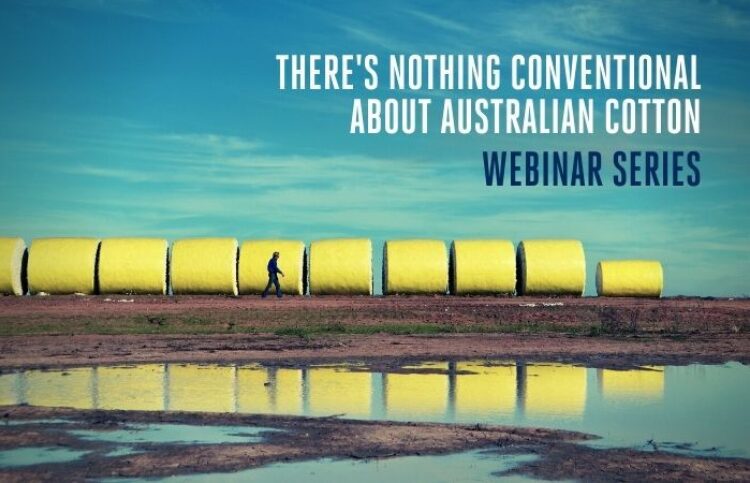 Register now for a new webinar series, There's Nothing Conventional About Australian Cotton, launching this World Cotton Day with a session titled "The Seed that Packs a Punch".
Brought to you by Cotton Australia, the webinar series will take a deep dive into the Australian cotton industry and its place in the global textile future by exploring its unique points of difference, engagement with adaptive technology and viability in the future circular economy.
Starting on October 7, special guests Adam Kay, CEO of Cotton Australia, and Colleen MacMillan PHD – CSIRO leading plant biologist, will discuss Australia's cotton seed that is packed with technology to help Australian cotton farmers deliver high quality, sustainable cotton fibre to the fashion industry.
The webinar will provide an open Q&A session where Colleen will discuss what's in the seed and why it is important plants adapt to changing environments.
Adam, who has worked in the Australian Cotton industry for 35 years, will explain why genetically modified seeds are a success story in Australia, how it is managed differently here and new innovations in the pipeline.
"The Seed That Packs a Punch" is the first of six webinars in a series that will follow the Australian cotton season from planting to harvest, through to a garment's end of life and beyond.
The webinars will explore the science, people, stories and innovation behind Australian cotton with experts from the field, highlighting why Australian cotton is becoming a highly sought-after fibre.
The webinars are free, please register here.
Webinar One
The Seed That Packs a Punch
5pm EDST
Thursday, 7 October 2021.