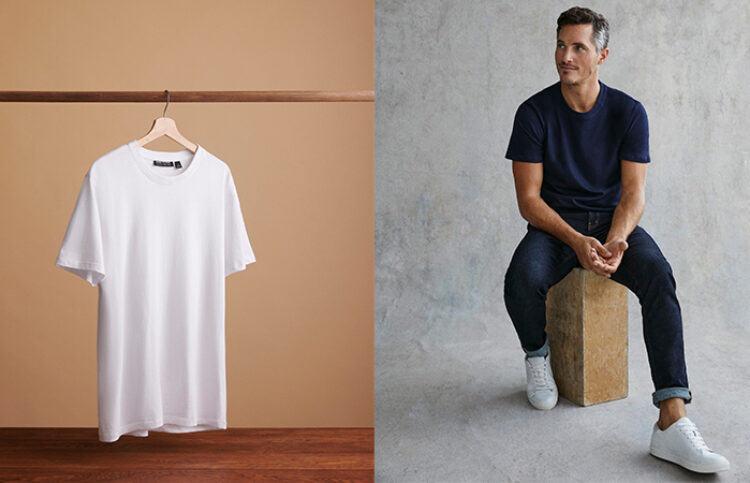 Country Road's latest men's t-shirt is a great Aussie collaboration – using Australian grown cotton, manufactured here on home soil.
Cotton Australia is getting behind Country Road's men's t-shirt – the second garment by this leading brand that's made entirely on-shore in Australia. It's a trend we're seeing more of through our work with local brands and retailers.
With Australian farms supplying high-quality, sustainable, premium cotton for the shirts, Country Road managing director Elle Roseby said the business was proud to support the Australian cotton industry.
"The launch of these t-shirts follows on from the brand's iconic Australian made 90s Reissue Sweat, released earlier this year and made at the same factory," Elle said.
The Australian cotton was dyed at ABMT in Melton South, Victoria, and from there, fabric was sent to ABMT Kaplan Group in Thomastown where it was cut and sewn into the tee.
Elle said Country Road research had revealed customers cared about quality and the desire to support local industry.
She said the 90s Reissue Sweat was a pilot to test appetite among customers for local manufacturing, and if they were willing to pay the increased price that was associated with it.
"Following the Black Summer bushfires in 2019-2020 and more recently, the pandemic, more Australians are showing a passion to support Australian-made and purchase clothes made here," Elle said.
"This also coincides with a growing awareness of the relationship between sustainability and local manufacturing."
Country Road describes the shirt as a heavier weight fabric knitted into a 180gsm jersey and custom-dyed from their signature palette.
To view the range, click here