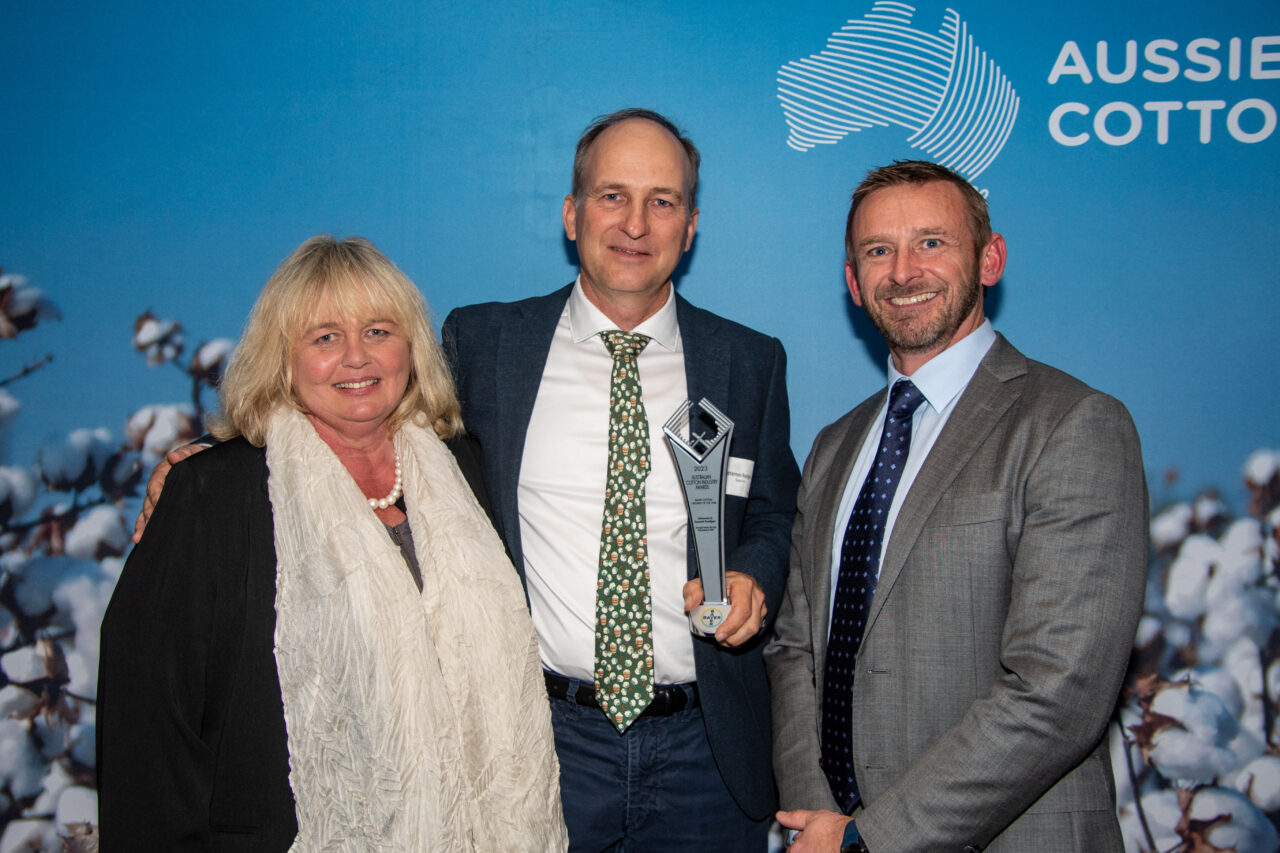 The Cotton industry's top awards for 2023 have been announced at the Cotton Collective Awards Dinner in Toowoomba with Queenslanders taking out all but one of the categories.
The 2023 Bayer Cotton Growers of the year are Johannes and Scarlett Roellgen from Tyunga Farms, Brookstead on the Darling Downs with Daniel Skerman, representing Skerman Farms at Dalby, taking out the AgriRisk High Achiever award.
Johannes and Scarlett have been growing cotton continuously on their farm for 29 years and this year produced 1100 hectares of both irrigated and dryland cotton. Despite the challenges of drought and floods over the years they have consistently improved their yields.
The Roellgen's are passionate about reducing chemical use on their farm through the application of feedlot manure and insect pest management. They have also increased their water efficiency through laser levelling of their fields to improve flood irrigation, while investing in lateral move over the top irrigators to further enhance water effectiveness.
Johannes acknowledges Toowoomba-based agronomist Matthew Holding for helping to drive efficiencies and for bringing together a local group of farmers who have reduced their combined nitrogen applications 40% lower than the industry average.
AgriRisk High Achiever of the year Daniel Skerman, representing Skerman Farms at Dalby, runs 2000 hectares including 100 hectares under irrigation. Farming for the Skerman's is a family affair involving Daniel and Chloe, Ross and Merryll, Luke and Michelle and Josh and Amanda – all playing an important role in the success of their property Fassifern.
With an agronomy background Daniel has a deep commitment to recording and tracking data to monitor the overall cost of production and maximise the use of every drop of water.
The family uses soil coring and EM38 soil mapping to monitor moisture to ensure the best outcomes and they actively map cotton quality to highlight variations paddock to paddock so they can respond appropriately. The family only uses synthetics when necessary but has a long history of using manure on farms to boost production.
Succession planning is also a strong feature with Daniel's father Ross putting in place a strategy to pass the farming responsibilities onto his sons, allowing a transition to retirement.
With over 50 years growing experience in the area the Skerman's say it's still a fun crop to grow and they are excited by the opportunities to continue to maximise their farming potential.
The recipient of the CRDC Chris Lehmann Young Cotton Achiever of the Year Award is Gold Coast-based fashion designer Emma Bond who promotes cotton and cotton designs through her own label Madi and Pip.
Emma, who volunteers her time to educate many audiences about the benefits of cotton, is passionate about sustainability and circularity and was chosen to participate in the 2022 Australian Future Cotton Leaders program.
The recipient of the Cotton Seed Distributors Researcher of the Year Award is Dr Jamie Hopkinson from Queensland's Department of Agriculture and Fisheries in Toowoomba.
Jamie has made a significant contribution to the Australian cotton industry through his research into entomological issues for over 15 years and has managed the industry Silver Leaf Whitefly resistance testing program for over 13 years.
Cotton Australia CEO Adam Kay congratulated all award recipients and all nominees. "Every person nominated deserves recognition because of their own commitment to an industry they are passionate about.
"These awards have again displayed the depth of talent and knowledge, and the potential to be even better than what we are today in growing Australian cotton. The award recipients, and all nominees, give me extra confidence that our cotton will continue to be considered among the best in the world while leading in sustainability outcomes."
The prestigious Incitec Pivot Fertilisers Service to the Cotton Industry Award was also announced at the dinner.
This year that honour went to Peter Birch from Moree in New South Wales who has demonstrated a passion for agriculture, and for supporting young people into agriculture, since he first started as a farm agronomist in the 1980's.
"Peter has played a critical role throughout his 40 years in the industry, actively encouraging and supporting staff to grow with B&W Rural, the organisation he started in partnership with Peter Weal in 1990. He has mentored a large number of agronomists and young growers for over 30 years, individuals who are now making a considerable impact throughout the cotton regions of New South Wales and Queensland."