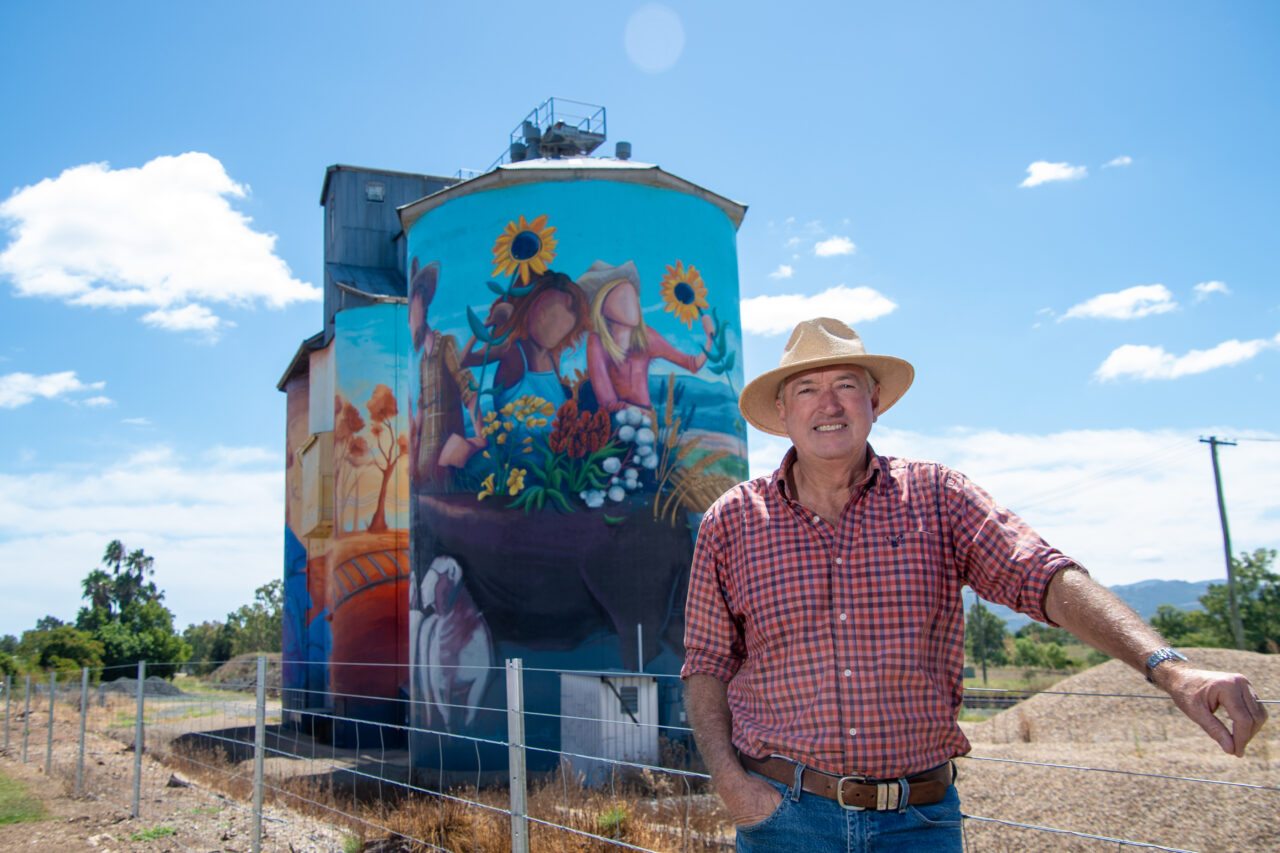 At the heart of rural communities, cotton farmers are involved in local projects, team sports and organisations that keep their small towns thriving.
In Quirindi, about five hours north-west of Sydney, cotton farmer Ian Carter is the president of the Silo Art Committee that was instrumental in creating a tourism drawcard for the town.
It's a diverse committee made up of farmers, and community residents, but they all have the same common interest – making Quirindi the best place to live and visit
"Community is what we are all about," Ian, the 2016 cotton farmer of the year, says.
Ian and the Silo Art Committee cemented Quirindi's place on the map by investing in the painting of the town's GrainCorp silos.
The team secured grants and donations to transform the silos into a masterpiece that's continuously attracting visitors to town, strengthening the revenue for local businesses.
"Since our artist Peter Ryan started painting the silos at the end of October 2022, local businesses have reported a 20% increase in revenue," Ian said.
"That result is what makes us feel really good about this project. If we can get more people to visit our town, they shop at our local businesses and stay in the region, injecting revenue into our community."
In regional communities, 95% of cotton growers volunteer in at least one community event annually, and cotton farmers contribute twice as much to community events in comparison to the Australian average, according to the 2020 CRDC Cotton Grower Survey.
The silo art project took longer than anticipated, spanning four years of consultations, preparations, engineers' reports, working with artists and the local council. Eight weeks after the final go-ahead and 800 litres of paint donated by Dulux, Peter transformed the 23 metre high infrastructure into art.
"Our community wanted something that would last into the future and wouldn't date. We also didn't want something painted on our silos, only to drive down the road 100m and see the exact same thing," Ian said.
"The concept is the development of the Liverpool Plains, from pre-aboriginal settlement through to the arrival of the railway, development of livestock, cropping and cotton farming then disappearing around the silo where viewers can imagine into the future."
Not only is the artwork spectacular to look at, but the silos come to life after dark with an animated light show.
The Quirindi silos were the 56th silos to join the Australian Silo Art Trail that promotes tourism in regional and rural Australia, and the first to include an integral animated light show.
"On opening night, we had 1500 people attend (Quirindi has a population of 2580 according to the 2022 Census). We closed the street and people just poured in. It was fantastic," Ian said.
"These projects are very important for our community. It brings people together from all walks of life and keeps our town thriving. Not only does it connect our community, but the surrounding communities, and those interlaced such as the cotton industry."