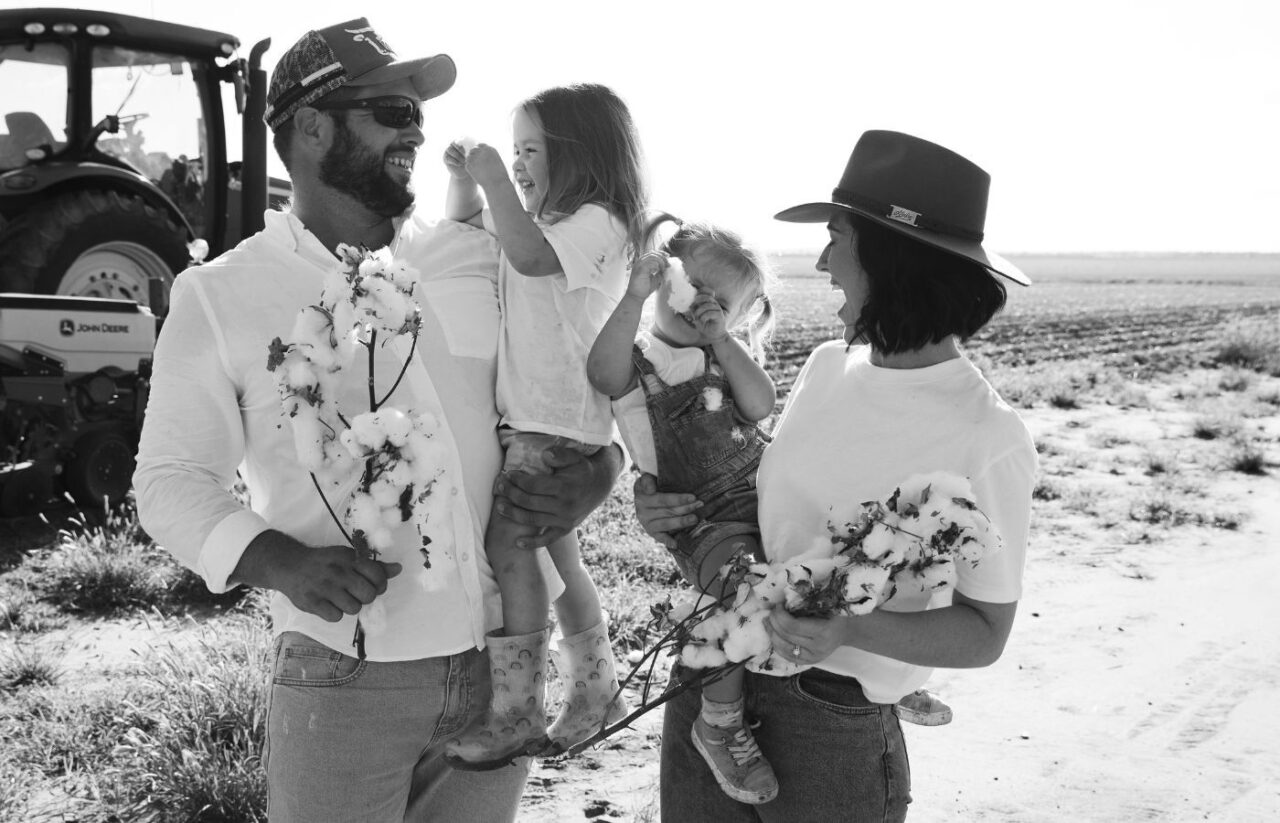 If you really want to understand the Australian cotton industry, there's no better way than visiting a farm, speaking with the farmers and seeing first-hand what they do best.
For Cotton On Kids, using two farming families from Emerald, in Central Queensland, helped to tell their Australian cotton stories when launching their first campaign with their new Australian cotton range.
Farmers Aaron and Carly Kiely and Laine and Lucy Thompson, along with their children, told their cotton farming stories as they inspected crops and started syphon irrigations in front of the camera.
When Cotton On Kids first launched Australian cotton garments in 2021, the directive was to be as authentic as possible.
"We know how important that is to our customer – and for the customer to see the product in real life," Cotton On Kids Marketing Manager Carissa Hutchinson said.
"With 90% of Australian Cotton farms run by families, our customers were really able to connect with and relate to their stories. From a marketing perspective, this allowed us to be more conversational than ever before with our customers through both our digital and print communications."
Cotton On Kids was able to use powerful imagery and storytelling across several touch points to connect with its consumers, even continuing its conversation through the use of the Australian Cotton Mark pictured on their garment swing tags.

"It's not always easy to call out the origin of the fibres and materials we use, but Cotton Australia has created a brand that the consumer knows," Carissa said.
"We love the quality of Australian Cotton, we love what it stands for, and we love the real stories that come with it. These swing tags allow our customer to easily pick up a product and make this connection; they're an important piece of the campaign and messaging within our Cotton On Kids community."
Cotton Australia's Cotton to Market team facilitated working with the farmers, acting to connect the farmers with the brand.
Program lead Brooke Summers said the farmers were excited to feature in the campaign and to tell their story to a wider audience.
"The cotton farmers really enjoyed working with the Cotton On Kids team and telling their farming story. It's not every day they get the opportunity to share their stories, particularly around environmental and sustainability practices, to such a wide audience," Brooke said.
For brands looking to work with farmers, please contact the Cotton to Market team here.