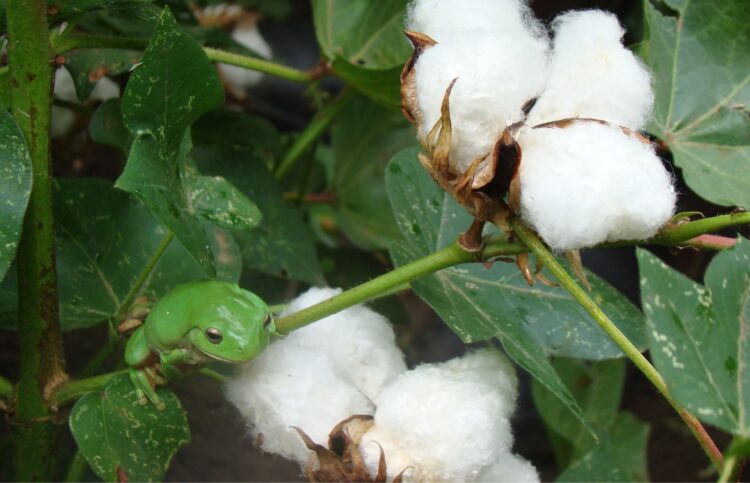 Biodiversity may consist of small organisms in the environment, but they have a large role in growing sustainable cotton in Australia.
Throughout September, we are celebrating Biodiversity Month, highlighting our cotton farmers who are making a positive impact to enhance and improve biodiversity on their farms, along with our brand partners that are joining the process.
Biodiversity is the varied forms found in the environment, consisting of animals, plants, bacteria, fungi, and micro-organisms – and they all interact with the natural ecosystem, waterways and landscape.
It's no surprise that by providing healthy on-farm biodiversity opportunities, cotton production flourishes, as does the natural environment.
Cotton farmers are not alone in wanting to enhance their farms – consumers, brands and retailers are also interested in sustainable farming operations.
To help improve biodiversity along the Namoi River, iconic Australian fashion brand Country Road has partnered with Landcare and Cotton Australia.
Country Road has invested $600,000 across three years, thanks to the sales of the Verified Australian Cotton heritage Sweats, to plant native trees and improve water ways along the Namoi River with local cotton farmers.
Farmers Andrew Watson from Boggabri, and Daniel Kahl from Wee Waa, were the first two farmers to participate in the project.
More than 4000 trees were planted along the Namoi River, to improve natural habitats for native wildlife.
Unfortunately, some of the trees were washed away during the 2021 and 2022 floods, but Country Road and Land care committed to replanting in the impacted areas.
Earlier this year, Cotton Australia hosted a series of webinars that shone a light on the sustainable farming industry.
The second webinar Farming With Nature: Why Biodiversity Matters was viewed by a range of cotton and environmental enthusiasts who wanted to learn more about the industry's impact on biodiversity.
Boggabri farmer Andrew Watson was a key guest speaker, and he discussed his Integrated Pest Management system and how it is a key component to his farming operation.
Cotton Research and Development Corporation's Natural Resource Management specialist Stacey Vogel also discussed biodiversity projects and what farmers are doing on farm
Cotton farmers Susie and Jamie Grant are seeing wildlife return to an important ecological community on their property.
Since 2019, the Grants have been restoring 150ha of mainly riparian grasslands and woodlands along Jimbour Creek at 'Wyalong', on the Jimbour Brigalow flood plains near Dalby in south-east Queensland.
To learn more about biodiversity, check out the resources on the Australian Cotton website.