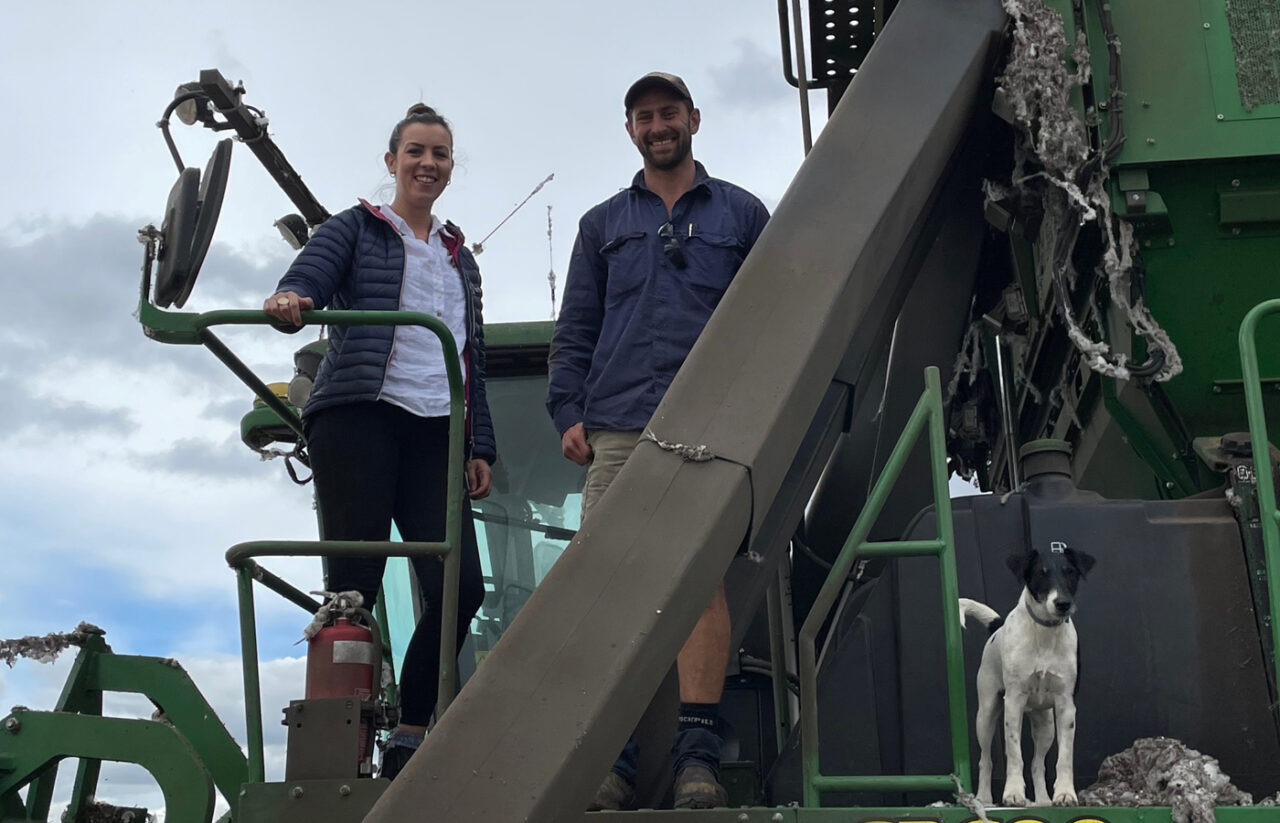 Australia's sustainable cotton farming practices have been commended by Better Cotton's Emma Dennis.
Emma, a Senior Manager for Sustainable Agricultural Practice with Better Cotton, visited several farms on the Darling Downs prior to attending the Australian Cotton Conference on the Gold Coast.
While Emma predominantly works with small scale farmers through Better Cotton, she said the chance to visit large scale farms was "hugely insightful."
Emma's farm visits on the Darling Downs incorporated discussions about Cotton Australia's myBMP (Best Management Practices) program.
Although harvest was delayed, it provided the perfect backdrop for conversations about Australian cotton production.
"A personal highlight for me, as it is not something that I have been directly exposed to before in a large farm context, was learning about the technology use agreement and the detail of stewardship that's involved with the Bollgard technology," Emma said.
"It's clearly an important tool for Australian cotton growers and its ongoing stewardship is a critical component of sustaining its use."
Emma acknowledged the input farmers make to become myBMP accredited, and subsequently Better Cotton certified farmers.
She said it was a reminder of the impact safety improvements had for workers, families and the environment when appropriate protections were implemented.
"I'm yet to meet a farmer anywhere in the world that isn't proud of what they grow and how it is produced – and Australian farmers are no exception," Emma said
"Recent progress on reducing the use of insecticides, and the continual progress on maximising crop-per-drop, are something every farmer mentioned.
"Australian cotton is really pushing the sustainability agenda and the conference was an excellent demonstration of that."
At the conference, Emma participated in a panel that discussed #Planet - behind the swingtag - what's driving brands, where she spoke about the impacts of Better Cotton.
She said the conference was "extremely energising" and she felt surrounded by passionate and knowledgeable people.
"I attended the conference with the ambition to strengthen the partnership by enhancing Better Cotton's knowledge of cotton production in Australia, and deepening Cotton Australia's knowledge of the better cotton mission, strategy and ongoing projects," Emma said.
Cotton Australia has been a Better Cotton partner since 2014, with certified myBMP farmers able to achieve a premium for their cotton through the program.
Cotton to Market Lead Brooke Summers said the opportunity to provide on-farm insight to Better Cotton was a valuable experience.
"To have the opportunity to show Emma around our farms to see what farmers are doing to produce some of the most sustainable cotton in the world, was an excellent opportunity," Brooke said.
"Our farmers are proud of their sustainable growing practices, and for Emma from Better Cotton to see that first-hand goes a long way in showcasing our industry."