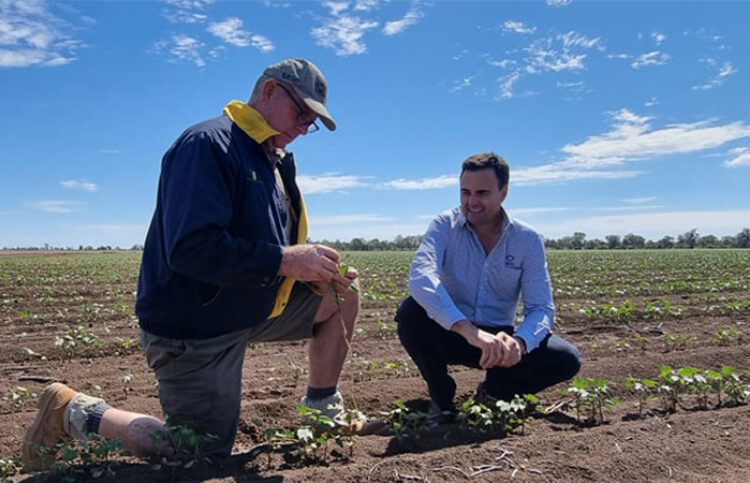 One Billion people will be clothed by Australia's expected bumper cotton crop this season, with planting underway in Central Queensland.
The first cotton seeds have hit the ground, with Emerald growers planting what is expected to be a bumper and possibly record crop this season.
Central Highlands grower Neek Morawitz (pictured with Cotton Australia board chairman Nigel Burnett) is planting 400ha of cotton across two farms in Emerald, with the first seeds sown earlier in August.
"We expect a good result based on previous experience, with good yields and excellent quality," Neek said.
This season's one million tonnes-plus of fibre that's expected to be grown by the industry will produce jeans, t-shirts, socks and jocks for more than one billion people.
The cotton grown will also produce 1.2 million tonnes of cottonseed – a valuable commodity for cattle feed, crushing for cooking oil and for export. Some people don't realise cotton is both a food and a fibre crop.
Neek was also involved in a successful winter cotton crop trial, which is possible because of the warm conditions in the northern part of the industry. Cotton is traditionally only planted in summer.
"This is the first time we have planted a commercial scale winter cotton crop of 36 hectares and it's looking promising. Last year, we only had one hectare planted," Neek said.
For the season ahead, forecasting predicts a national Australian cotton crop of 4.5 million bales – a considerable improvement on the 600,000 bales produced in 2020 or the 2.8m bales last season.
This year, Cotton Australia predicts about 450,000 hectares will be planted, which could increase if there is further rain.
Cotton Australia CEO Adam Kay said growing conditions this season were favorable, after farmers suffered through one of the harshest droughts in history.
"Despite the changes in trade with China, the global markets are good with demand ensuring good process, currently at about $620 per bale for next season," Adam said.
"From speaking to our growers, we estimate that more than 30 per cent of next season's production has already been sold from grower to merchant."