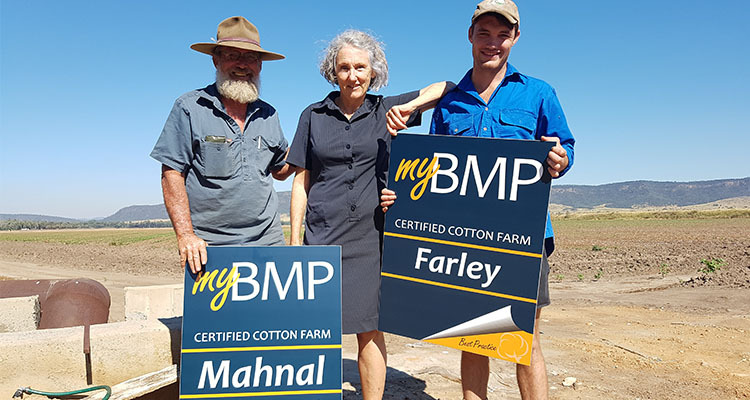 Australia's myBMP Farms Produce Sustainable, Ethical Fibre
myBMP (Best Management Practices) is the Australian cotton industry's cotton certification program. The program provides a framework and the practical tools required to continually improve environmental performance on Australia's cotton farms. It's a voluntary environmental management system widely recognised as one of the most robust in the world.
To achieve full certification Australia's cotton growers must meet over 300 best practice criteria covering all aspects of cotton production across 10 areas of the farm including soil health, worker health and safety, biodiversity, water and pest management. There are over 400 best practices in the entire program. Over 80% of farmers are participating in myBMP, with around 20% achieving full certification.
myBMP ensures that the Australian cotton industry produces economically, socially and environmentally sustainable cotton by providing:
A central access point to the industry's best practice criteria across three levels of continuous improvement
Technical and practical support for making changes on farm through an industry-funded regional extension team
An on-line self-assessment that helps growers identify the best practice criteria they meet, and where improvement is needed
Links to world leading cotton research and development information to support growers to change
Practical tools and resources
Independent auditing
What myBMP Covers
myBMP is structured into 10 modules covering all areas of cotton production. Each module is divided into key areas with specific industry standards supported by checklists, additional information and resources. The 10 modules are:
Biosecurity - Avoidance, management and control of pests and diseases
Energy and Input Efficiency - Efficient energy inputs such as electricity, fuel & fertilisers
Fibre Quality - Growing the best quality cotton possible
HR & Workplace Health and Safety (WHS) - Managing employees and contractors whilst providing a safe workplace
Integrated Pest Management (IPM) - Management of pests, weeds and diseases
Natural Assets – Managing the vegetative and riparian assets on farm
Pesticide Management - Pesticide management, storage and use on farm
Petrochemical Storage and Handling - Managing fuels and lubricants on farm
Soil Health – Maintaining and/or improving soil quality
Water Management - Water quality, efficiency of storage and distribution
Each checklist item is assigned a level. These levels are broken into:
Level 1 - identified legal requirements (what you must do)
Level 2 - Industry identified best practice standards (what you should do)
Level 3 - Innovative practices (what industry leaders are doing)
To view the myBMP farmer platform, please visit www.mybmp.com.au
Verification
To achieve full certification in the myBMP program, an independent audit is conducted to check that all Level 1 and Level 2 practices have been achieved on-farm. myBMP certification is valid for a period of five years, with a re-certification audit required to remain certified. To monitor the effectiveness of this certification process random surveillance audits are also conducted.
The objectives of the Certification Audit are to:
Verify that the farm has met the myBMP certification standards
Formally record the farm's environmental performance and provide information that can be used to develop future on-farm plans
The objectives of the Random Surveillance Audit are to:
Verify that growers are maintaining (or improving) their practices and management during their five year certification period, to ensure the process maintains credibility
Provide feedback to the industry on the performance of growers during the certification period, in order to help target research and extension needs
Both certification and random surveillance audits consist of five core modules and one random module, selected by the myBMP Office. The modules included in every audit are:
Pesticide Management
Water Management
Natural Assets
Soil Health
Petrochemical Storage and Handling
More Information